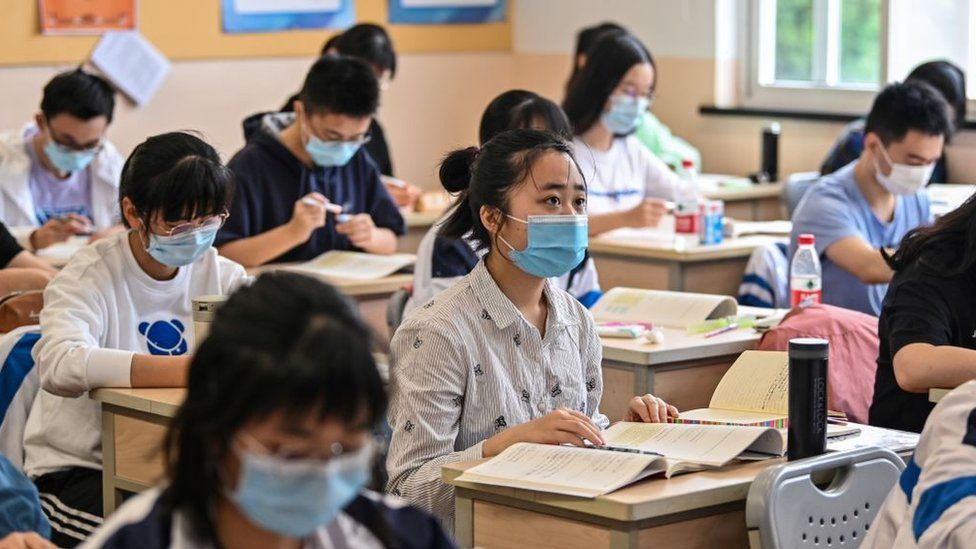 As Covid cases increase, China's largest city, Shanghai, has ordered that most of its schools offer classes online.
According to Shanghai's education bureau, nurseries and childcare centers will also close on Monday.
Following a wave of protests against China's zero-Covid strategy, Chinese authorities eased restrictions earlier this month.
However, the relaxation of strict lockdown measures has raised concerns about the spread of Covid in China.
ADVERTISEMENT
How is China dealing with Covid?
A brief overview of China's Covid rule changes
Significant changes in the country's Covid testing and reporting systems have made it difficult to determine the extent of the virus's spread, with data for the week ending 11 December showing a drop in the total number of new infections across the country after peaking the previous week.
However, before the change in data collection, the number of cases was higher than the previous Covid wave in April.
The graph depicts the number of weekly Covid cases in China from 19 January to 12 December 2022.
Hospitals and medical facilities are under increasing strain, prompting the establishment of temporary health centers and intensive care units across the country.
An additional 230,000 hospital beds have been made available in Shanghai, according to reports.
Some city schools have already suspended in-person classes due to illness among teachers and staff.
Shanghai's education bureau announced on Saturday on the Chinese social media site WeChat that most year groups in primary and secondary schools would begin using online learning on Monday.
Students and children who do not have other childcare options may apply to attend school.
According to the statement, the measures are being implemented to protect the health of teachers and students in accordance with current coronavirus prevention measures.
Schools in the country's financial center will be closed for in-person learning until the end of the school year on January 17, when the Lunar New Year holiday begins.
Some Chinese social media users applauded the decision, agreeing that students should stay at home. Others questioned the effectiveness of online learning in comparison to in-person instruction, as well as the additional demands placed on working parents.
Following the government's abandonment of its zero-Covid strategy, there has been an explosion of self-reported cases across the country, with many cities eerily quiet as large numbers of people isolate at home, either sick with Covid or attempting to avoid becoming infected, according to Celia Hatton of the BBC.
There are concerns that China's health infrastructure will not be able to handle a surge in patients, particularly as Covid spreads among the elderly, many of whom are not fully vaccinated.